About us
Weekend-sochi is a company providing a full range of vip-level tourist services: from car rental and booking to organizing leisure and business meetings. The main thing that distinguishes us from others is that we value the client's time very much. Therefore, you do not have to explain your wishes for a long time - our managers are perfectly oriented in the field and usually understand the client with a half-word without any problems.
There are 3 reasons to book transportation services with us:
You do not have to worry about the booking, because we have been working in the transport and tourism sector since 2008 and during this time our services were positively appreciated by many celebrities and representatives of leading world-class companies.
You will feel real comfort and luxurious service throughout the rest. Our staff can even turn an ordinary business trip into a fascinating vacation - this is what all our regular customers say.
Any complications we undertake - you just need to clarify what exactly you want. Need a yacht? Helicopter? Or you need to organize an interesting and exciting pastime or event? We have both comfortable buses for guests, and wedding limousines - and our managers will find a suitable place and settle all problems.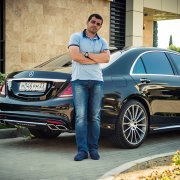 "The successful work of Weekend-Sochi, in my opinion, is due to our impeccable attitude towards the customer, quality and high level of service.
Work in the field of VIP-services implies the ability to respond quickly to customer requests and to provide services in full as soon as possible.
A serious approach to business and concern for every client, we have earned the confidence of the largest Russian and foreign companies. And I'm proud that we are trusted by famous politicians, artists and businessmen."
Mikhail Karpov, the head of the company Weekend-Sochi
Types of services for Weekend-Sochi:
rental of business and executive cars (VIP car rental);
car rental without a chauffeur;
the organization of transfers;
yacht rental, boat trips on comfortable boats and yachts;
Helicopters hire and organization of flights around Big Sochi;
transport services for conferences, seminars, concerts and other events;
the provision of services for the selection of hotels, sanatoria, apartments or cottages with a convenient location;
organization of excursions to the sights of Big Sochi.
Our company has been working in the field of tourism and transport services for more than 8 years and is in constant dynamic development. Trying to keep pace with the times, we constantly expand the list of services provided to make every moment spent in Sochi unforgettable.
To each client we have a strictly individual approach. Experienced manager with a half-word will understand which holiday in Sochi will be of interest to you and will offer the best package of services to satisfy all your wishes.
Our corporate service, which covers all areas of recreation and entertainment in the resort in Sochi, provides you with an excellent opportunity to retire from everyday worries and plunge into the world of your usual luxury and comfort.
Transfer from the airport, booking tickets or a room in a hotel or a private boarding house - these and other small things, which usually take a lot of time, we take care of ourselves.
With the inherent accuracy, tact and attention to details, the staff of our company will fulfill all customer wishes regarding the organization of leisure, excursions and entertainment in Sochi. So, using our services, you can plan your holiday in advance, and the trip to the sea will pass exactly as you wish.
Own VIP car, luxury room in the best hotel, organization of a walk on a luxury yacht - any service provided by the travel company Weekend-Sochi is thought out to the smallest detail and is aimed at creating for you an atmosphere of comfort, coziness, luxury and bliss.
This has long been appreciated by many of our regular VIP clients who admit that we know exactly how to turn even an ordinary business trip to Sochi into an exciting, unforgettable vacation - a delight for the eyes and a real extravaganza of feelings!
In addition, it should be noted that we successfully and with pleasure work with both individual and corporate clients. We provide a complete package of all necessary documents for individuals and legal entities.
CONTACTS:
tel.:
+7 (938) 441-12-20 Megafon